So the F/+ picks did well this week, going 24-16 (60.0%). Not that you would know this, as my baby's arrival on Wednesday precluded me from posting the picks (and about half of the conference summary pieces). I'll post the picks at the bottom of this post, just for posterity, but first, let's take a walk around FBS and see who lived up to their projections and who didn't.
Exceeded Expectations
Mississippi State (Proj. Scoring Margin: +30.5 | Actual Scoring Margin: +45 | Diff: +14.5)
Projected blowouts are a bit out of your control -- whether you beat a team by 30 or 50 depends on when you put your backups in, when your opponent puts its backups in, how much your opponent completely folds, etc. Mississippi State was picked to coast, and they did. Their defense was average -- 338 yards against a poor offense isn't bad, but it's not amazing (and you'd like to see more than two sacks in 40 Memphis pass attempts) -- but the offense was unbelievable. MSU averaged 9.3 yards per play, rushing and passing for 300+. Chris Relf averaged 9.6 yards per pass, combined for 253 total yards and went to the bench, and then his backup threw an 80-yard touchdown pass. Memphis is really bad, but 645 yards of offense is 645 yards of offense.
LSU (Proj. Scoring Margin: +4.2 | Actual Scoring Margin: +13 | Diff: +8.8)
Turnovers define games. Not only do they quite obviously benefit one team and harm the other, but depending on when and how the turnovers came about, they can define what happens the rest of the way. Oregon lost three fumbles that were worth 17.04 points in a game they lost by 13, which, in and of itself, defines last night's LSU game rather well. But beyond the pure points, the way they came about were so incredibly important. This game was going to be determined by who was able to avoid passing downs the best -- both defenses are spectacular on passing downs. Well, the three turnovers gave LSU a 30-13 lead in the third quarter, which created, basically, permanent passing downs for Oregon. Add that to the fact that LSU lived up to their "no big plays" reputation on defense, and there was little way LSU was going to lose this game. Turnovers, defense and timely offense: it's the Les Miles way.
Just About Right
Ole Miss (Proj. Scoring Margin: +1.5 | Actual Scoring Margin: -1 | Diff: -2.5)
Poor Ole Miss. With ten minutes left, the Rebels led BYU, 13-0; they were projected to win this game by a slight margin, but they were still overachieving significantly. And then the last 10 minutes happened. Ross Apo caught a touchdown pass from Jake Heaps, then Ole Miss QB Zack Stoudt, who had himself a solid day otherwise, suffered an incredible brain fart. On third-and-27, nursing a 13-7 lead, he not only allowed himself to get sacked (honestly, he shouldn't have even been dropping back to pass; I disagreed significantly with just about every coaching decision made by the Ole Miss sideline in the fourth quarter), but he got stripped. BYU's Kyle Van Noy recovered in the end zone, and Ole Miss eventually lost, 14-13. For the game, holding BYU to 316 yards (4.6 per play) isn't too bad -- I really like BYU's potential -- and I really liked Ole Miss' run defense. They only had three tackles for loss, but they stuffed BYU for little gain all day. Alas, they lost anyway.
South Carolina (Proj. Scoring Margin: +21.6 | Actual Scoring Margin: +19 | Diff: -2.6)
I'm pretty sure the projections didn't say "the Gamecocks will fall down, 24-14, at halftime, then pull away," but hey, whatever works. East Carolina's Airraid is prolific, and it took South Carolina a little while to get going. But in the end, Marcus Lattimore rushed for 112 yards (albeit on just 4.9 yards per carry), Alshon Jeffery had 92 receiving yards (albeit with just a 46% catch rate), and Jadeveon Clowney assisted on seven tackles, one for loss, and broke up a pass. The stars (and expected stars) got their stats, but they had to work pretty hard for them. (And they still scored 56 points, thanks in part to two return touchdowns (fumble, punt).
Also:
* Stephen Garcia: 7.3 yards per pass, 47% completion rate, 1 TD, 0 INT, 0 sacks; 56 pre-sack rushing yards
* Connor Shaw: 2.3 yards per pass, 33% completion rate, 0 TD, 0 INT, 1 sack; 32 pre-sack rushing yards
Underachieved
Florida (Proj. Scoring Margin: +43.1 | Actual Scoring Margin: +38 | Diff: -5.1)
Florida scored a TD. A real, street legal TD. I'm a little weepy right now.less than a minute ago via Seesmic twhirl
Favorite
Retweet
Reply
edsbs
edsbs
One certainly gets the impression that Florida could have won by 43 if they really wanted to, so we won't go too far down the "underachiever" road. One can't complain too much about a yardage margin of +331 (468 to 137) and great special teams. Jeff Demps and Chris Rainey combined for 184 rushing yards (8.0 per carry) and 88 receiving yards (9.8 per catch) and the defense registered 11 tackles for loss. No complaints.
Georgia (Proj. Scoring Margin: -7.0 | Actual Scoring Margin: -14 | Diff: -7.0)
As the Georgia-Boise and LSU-Oregon games were beginning last night, Twitter became rather entertaining, and not just in the "It's the best sports bar ever" sense. When Georgia and LSU made bad plays it was them beating themselves; when Oregon and Boise State made bad plays, it was proof that they were overrated and overwhelmed against the vaunted SEC. When Georgia's Brandon Boykin busted an 80-yard touchdown run, it was obvious that Boise State just wasn't athletic enough to compete. And then BSU scored 28 unanswered points to build an insurmountable lead. God, they were good. My numbers adored BSU last year, and it probably goes without saying that they do in 2011 too (after the smallest of sample sizes). But about Georgia:
* Get Brandon Boykin more touches (80-yard run, 40-yard kickoff return).
* Georgia's offensive line was no match for what is obviously still an incredible Boise State defensive line.
* Isaiah Crowell is going to be good. He only lost three yards in his 15 carries and probably did well to average four yards per carry considering the line disadvantage.
* Jarvis Jones is good (9.0 tackles, 2.5 TFL)
I think this game was more decided by Boise State's quality than Georgia's lack thereof, but it's pretty clear that if Mark Richt wants to keep the vultures from circling, he may want to figure out a way to beat South Carolina this week.
Kentucky (Proj. Scoring Margin: +21.2 | Actual Scoring Margin: +11 | Diff: -10.2)
Kentucky's was a "Yeah, but..." 11-point win. They gained an insanely terrible 190 yards of offense. Their quarterback (Morgan Newton) was picked off three times, completed 39% of his passes and averaged 5.4 yards per pass. Their offensive MVP was unquestionably their punter, Ryan Tydlacka (seven punts, 47.1 average, three inside 20), who flipped the field with no help from the O -- only Winston Guy (7.0 tackles, 2.5 TFL, 2 INT) was better than Tydlacka. Also, this happened: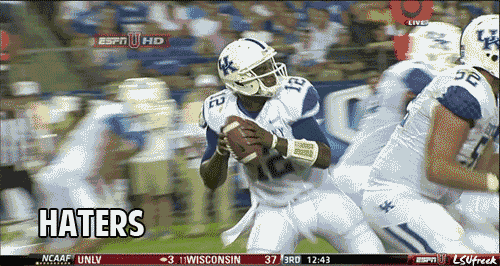 Ten points of underachievement doesn't sound quite right in this one.
Alabama (Proj. Scoring Margin: +51.7 | Actual Scoring Margin: +41 | Diff: -10.7)
Kent State has a solid defense, and 'Bama gained 482 yards and scored 48 points. I'm not going to worry too much about the Tide. Still, Tide quarterbacks A.J. McCarron and Phillip Sims combined for four interceptions (McCarron's INT rate was 9%, Sims' 14%), and that's alarming. So, too, is the fact that Trent Richardson gained just 2.8 yards per carry. When you're holding your opponent to 90 total yards, you are allowed some mistakes, but ... not all is sunshine and moonbeams here.
(This really could be a special defense, by the way. Dre Kirkpatrick broke up three passes, six players registered sacks, and the linebackers were ridiculous.)
Auburn (Proj. Scoring Margin: +48.9 | Actual Scoring Margin: +4 | Diff: -44.9)
If you'd asked me at the beginning of the season who was going to struggle the most to live up to Football Outsiders projections, the answer would have been a complete no-brainer: Auburn. They just lost so damn much from last year's squad. There is no precedent for a team coming out of (relative) nowhere to become No. 1 (both in terms of national titles and F/+ rankings), then lose almost every difference-maker and start over. Our projections probably would have been better if we had just completely ignored 2010. But we don't do that. Alas, you get outlier projections like Auburn.
That was a long way of saying I knew Auburn was probably going to struggle this year, especially early on ... but I did not see them trailing Utah State by 10 with under three minutes remaining. They needed onsides kick luck to pull off the dramatic win in a game in which they were outgained by 84 yards. They gained 243 yards in their first nine drives before rallying to gain 121 in their final two drives. Michael Dyer and Onterio McCalebb combined to average a mediocre 4.4 yards per carry, and the defense had little to no answer for an efficient Utah State offense. USU quarterback Chuckie Keeton completed 70% of his passes (he averaged 7.1 yards per pass), and the Aggies' speed back gained 69 yards on 10 carries. Auburn did come up with nine tackles for loss, but they were extremely all-or-nothing, and it goes without saying that they've got a lot to work on.
Played An FCS Opponent
I don't make a habit out of projecting games versus FCS teams ... which means there are a lot of September games I don't project. We can still pass some light judgments.
Arkansas
Few complaints about the Hogs' 51-7 win over Missouri State. Arkansas had a +303 yardage margin (466 to 163), completed 80% of their passes for 10.4 yards per attempt and allowed 3.1 yards per pass (including sacks as passing stats). If you're looking for negatives, then I've got one: even removing sacks, Arkansas averaged just 3.9 yards per carry. They needed to prove that they could play at an elite level without Knile Davis, and while the passing game did its part, at some point they will have to be able to run the ball.
Tennessee
@BillConnelly1 @Vol_Football: Tennessee fumbles for the 7th time tonight, but has recovered all 7. Montana has fumbled twice and lost both.less than a minute ago via web
Favorite
Retweet
Reply
Jason Bates
bates_jason
Hey, uh, Vols? Save that fumbles luck for a game that matters, eh? (The box score says they fumbled just six times, but ... that's still 8-for-8 on fumble recoveries.)
Tennessee is young enough and crazy enough that they might have a lot of games like this one. The passing game clicked incredibly well -- sophomore Tyler Bray completed 71% of his passes at 12.2 per attempt, and sophomore receivers Justin Hunter and Da'Rick Rogers combined for a ridiculous 246 yards on 11 catches. At the same time, Bray was sacked three times (sack rate: 11%), and ... again, they fumbled six times. And they allowed 346 yards (5.1 per play). Montana running back Peter Nguyen rushed for 67 yards on nine carries, and Montana completed an 80-yard pass against Tennessee's starters. Lots to like, lots to dislike. Pretty sure that is going to be Tennessee's 2011 season in a nutshell.
Vanderbilt
Vanderbilt cruised to a 45-14 win over Elon in James Franklin's coaching debut, but there is plenty to work on. For starters, Elon outgained the 'Dores, 323-309; after three quarters, it was even worse: Elon 300, Vandy 189. The score was only 21-14 Vandy midway through the third quarter, and only a pick six by Trey Wilson allowed Vandy to hold the lead at all. Starting quarterback Larry Smith completed just 48% of his passes for 4.6 yards per attempt, and back Zac Stacy gained just 35 yards on eight carries. A 31-point win is a 31-point win, but it did nothing to convince me Vandy won't be 12th of 12 SEC teams this year. (Well, 11th is in play if Kentucky doesn't improve at hyper-speed.)
Belated Week One Projections
Picks in bold below were winners.
Date
Away
Home
Spread
(Home)
Pick
Proj. Winner
Proj.
Margin
1-Sep
North Texas
Florida International
-14.5
North Texas
Florida International
13.7
1-Sep
Mississippi State
Memphis
28.5
Mississippi State
Mississippi State
30.0
1-Sep
UNLV
Wisconsin
-35.0
Wisconsin
Wisconsin
45.1
1-Sep
Wake Forest
Syracuse
-6.5
Wake Forest
Syracuse
5.3
1-Sep
Bowling Green
Idaho
-7.5
Bowling Green
Idaho
1.7
1-Sep
Kentucky
Western Kentucky
19.0
Kentucky
Kentucky
21.2
2-Sep
TCU
Baylor
6.5
TCU
TCU
20.3
3-Sep
Miami-OH
Missouri
-17.0
Missouri
Missouri
34.4
3-Sep
Akron
Ohio State
-34.0
Ohio State
Ohio State
45.9
3-Sep
Middle Tennessee
Purdue
-18.5
Middle Tennessee
Purdue
15.0
3-Sep
Northwestern
Boston College
-3.0
Boston College
Boston College
11.8
3-Sep
Utah State
Auburn
-22.0
Auburn
Auburn
48.9
3-Sep
Kent State
Alabama
-36.5
Alabama
Alabama
51.7
3-Sep
Arkansas State
Illinois
-20.5
Arkansas State
Illinois
18.8
3-Sep
Minnesota
USC
-21.0
USC
USC
23.9
3-Sep
South Florida
Notre Dame
-10.0
Notre Dame
Notre Dame
16.0
3-Sep
Troy
Clemson
-16.0
Clemson
Clemson
23.6
3-Sep
UCLA
Houston
-3.0
UCLA
Houston
1.5
3-Sep
UL-Monroe
Florida State
-28.5
Florida State
Florida State
39.5
3-Sep
Western Michigan
Michigan
-14.0
Michigan
Michigan
24.2
3-Sep
BYU
Ole Miss
3.0
Ole Miss
Ole Miss
1.5
3-Sep
San Jose State
Stanford
-28.0
Stanford
Stanford
43.5
3-Sep
Buffalo
Pittsburgh
-29.5
Pittsburgh
Pittsburgh
45.0
3-Sep
Colorado State
New Mexico
5.5
New Mexico
New Mexico
1.0
3-Sep
Army
Northern Illinois
-10.0
Northern Illinois
Northern Illinois
18.8
3-Sep
Florida Atlantic
Florida
-34.0
Florida
Florida
43.1
3-Sep
Fresno State
California
-9.5
California
California
11.4
3-Sep
Indiana
Ball State
6.5
Ball State
Indiana
4.1
3-Sep
East Carolina
South Carolina
-20.5
South Carolina
South Carolina
21.6
3-Sep
UL-Lafayette
Oklahoma State
-37.0
Oklahoma State
Oklahoma State
43.7
3-Sep
Boise State
Georgia
3.5
Boise State
Boise State
7.0
3-Sep
Ohio
New Mexico State
7.5
Ohio
Ohio
14.8
3-Sep
Oregon
LSU
1.0
LSU
LSU
4.2
3-Sep
Rice
Texas
-24.0
Texas
Texas
29.8
3-Sep
Tulsa
Oklahoma
-24.5
Oklahoma
Oklahoma
30.3
3-Sep
Louisiana Tech
Southern Miss
-13.5
Southern Miss
Southern Miss
16.2
3-Sep
Colorado
Hawaii
-7.0
Colorado
Hawaii
1.1
4-Sep
Marshall
West Virginia
-20.5
West Virginia
West Virginia
34.3
4-Sep
SMU
Texas A&M
-16.5
Texas A&M
Texas A&M
18.4
5-Sep
Miami-FL
Maryland
-4.0
Miami-FL
Miami-FL
3.2